Birthing the New Consciousness
how your mind creates your reality . . .
 Greetings Lightworkers . . .

We are entering a new era, one of great change.  You only have to look around you to see the old order disintegrating.
A new dawn approaches . . .
A very exciting time lies ahead. . .
Birthing the New Consciousness
is where it begins. Now you can play your part in helping create the New Order of Light.


Only $27.99
This is an Ebook . . . NOT a physical one.
INSTANT DOWNLOAD
No postage/shipping/fuss

Inside . . .

Discover what "illegitimate thoughts" are and how they can jeopardise your growth.
Why positive thinking isn't the answer!
How the past and the future are both fictions, stories we make up as we go along.  Understanding this alone can set you free!
Plus. . .

What is

the shadow self? 



How to integrate disconnected parts of yourself.
What is the real meaning of the "unconscious" mind? This one might surprise you!
Understanding your "background mural". This is crucial if you want to make real progress.

Also. . .

And much, much more.
The Tao teaches that the journey and the destination are the same.
By coming here is proof you're on your journey.
Now embrace your destin-ation.  En-joy!


THIS IS A REALLY EXCITING TIME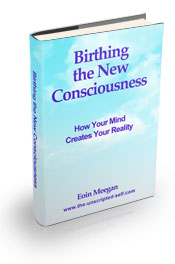 Only $27.99
This is an Ebook . . . NOT a physical one.
INSTANT DOWNLOAD
No postage/shipping/fuss
If you wish you make explore more of the-unscripted-self website here